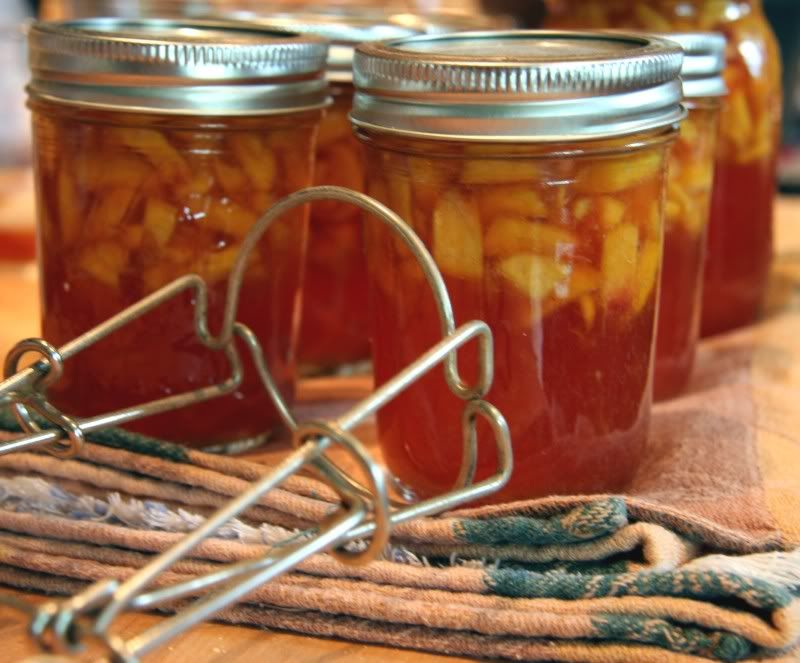 Before you begin:
Have all your jam jars ready and waiting. Wash as you would any other dishes. I do mine in the dishwasher on high temp, as this also sterilizes them reducing the need to boil them. Use either sturdy plastic containers with tight-fitting lids, or short wide-mouthed glass jars made especially for the freezer.
It's best to choose containers that are no bigger than pint-size; the jam will not set up as well in large containers.
3 cups fresh peaches, peeled and cut into chunks
5 cups sugar
1 pkg, Sure Jell Fruit Pectin (powdered, do not use the liquid form)
1 cup water in which to dissolve and boil the pectin
Wash and peel the peaches
Place it in a wide-bottomed pan and crush with a potato masher to a chunky consistency
Stir in the sugar and let the mixture sit for 20 minutes, stirring occasionally
In the meantime, mix together the pectin and water in a small saucepan until the powder is dissolved; bring it to a boil over high heat, and let it boil for a full minute.
Pour it into the fruit and stir for a couple of minutes
Pour the jam into your containers, leaving a half-inch of "headspace" at the top
Cover the containers and let them sit at room temperature for 24 hours
The jam should thicken significantly overnight. If it's too thick, stirring it will soften it up. If it's still too runny after 24 hours, pour it into a saucepan and bring it to a boil. It will get thicker as it cools, and you can re-bottle as before
Storing your Jam:
As the name implies, freezer jam is meant to be stored in the freezer. In fact, it will keep beautifully in the freezer for up to a year. You can also keep freezer jam in the refrigerator for up to three weeks. Once you open a container of jam, you should use it within three weeks as well. Just remember never to keep freezer jam at room temperature, or it will spoil.