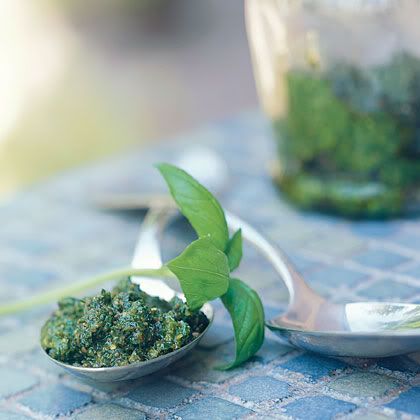 The new things you learn about those you love...Who knew my husband liked Pesto? I didn't..*sigh*! So with an overabundance of basil, I think I will make some of this over the weekend and freeze it!
2 cups fresh basil leaves, packed

1/2 cup freshly grated Parmesan-Reggiano or Romano cheese

1/2 cup extra virgin olive oil

1/3 cup pine nuts or walnuts

3 medium sized garlic cloves, minced

Sea Salt and freshly ground black pepper to taste
1 Combine the basil in with the pine nuts, pulse a few times in a food processor. (If you are using walnuts instead of pine nuts, pulse them a few times first before adding the basil.) Add the garlic, pulse a few times more.
2 Slowly add the olive oil while the food processor is on. Stop to scrape down the sides with a rubber spatula. Add the grated cheese and pulse again until blended. Add a pinch of salt and freshly ground black pepper to taste.
Makes 1 cup.
Serve with pasta, or over baked potatoes, or spread over toasted baguette slices.
*TIP: If you want to freeze the pesto, omit the cheese (it doesn't freeze well). Line an ice cube tray with plastic wrap and fill each pocket with the pesto. Freeze and then remove from the ice tray and store in a freezer bag. When you want to use some, defrost and add in the grated Parmesan or Romano.