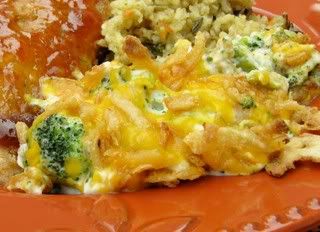 *NOTE: this is not an original recipe but one that I use often, especially for holiday dinners.
1 box frozen Broccoli (10 oz.)
1/2 stick Butter
1 small cooking Onion
1 small jar Cheese Whiz
1/2 cup instant Rice
1/8 cup Milk
1/2 can Cream of Chicken soup
In skillet saute the onion, broccoli in butter until onions are clear. Cook rice as directed on box in a small sauce pan. Combine in a casserole dish with the milk and Cheese Whiz. Bake at 350 degrees for 1 hour or until golden brown on top.