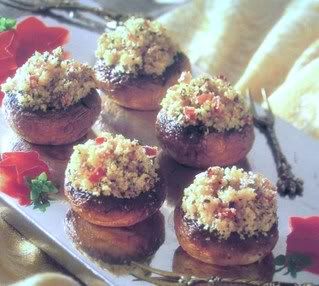 8-12 large Mushrooms
1 tablespoon Butter
2 tablespoons minced Onion
1/4 cup dried Bread Crumbs
1 teaspoon Parsley
1/2 teaspoon Oregano
dash of Garlic Salt
1/4 cup Sour Cream
2 tablespons Parmesan Cheese

Remove Stems from mushroom caps and finely chop. Saute' chopped stems and onions in butter for 5 minutes. Add remaining ingredients. Fill caps. Dip bottoms of caps in melted butter. Bake in a glass dish at 375 degrees for 20 mintues. Serve hot.

Serves: 6